A new generation baby carrier that is easy to use whenever, wherever you need it. There are three front and back carrying positions. The waist belt and shoulder straps make this a comfortable, ergonomic baby carrier that can be used for a long time. Suitable for babies and toddlers, 0-3 years.
Perfect for newborns
The Baby Carrier We can be used right from day one and it is anatomically designed to carry your growing child. The upright position keeps airways free and allows you to supervise your child's breathing. Legs and arms can move freely in the Baby Carrier We, allowing your child to develop muscles, motor skills and balance.
Easy to put on and take off
Like all our baby carriers, the Baby Carrier We is designed for you to use unaided in all positions. Even on your back
Front part opens up
The front part of the baby carrier opens up to enable you to lift your child out quickly and easily. This is particularly useful when your baby has fallen asleep in the baby carrier.
Perfect fit straight away
The baby carrier can be easily adjusted for the perfect fit when you and your partner want to share the load! The safety click will show you that you have fastened the buckles correctly.
Stable, adjustable head support
Good head support is very important for the first five months until your baby is able to hot its head up unaided. This baby carrier has stable, adjustable head and neck support. The head support can be adjusted and adapted to suit the baby.
Always at the ready
Convenient baby carrier that can be rolled up and placed in your diaper bag or under the stroller when not in use.
Safe and tested textiles
All fabrics used in this product are gentle against your baby's skin and safe to chew or suck on. They have been tested and approved in accordance with Oeko-Tex ® Standard 100 Class I. This means that the textiles are free from health-hazardous substances and allergens.
Developed with the pediatricians
This product was developed in close collaboration with pediatricians. We work with leading pediatricians, midwives and child psychologists. Their medical expertise is extremely important to us and they provide us with invaluable input when we develop new products. We never launch a product without their approval.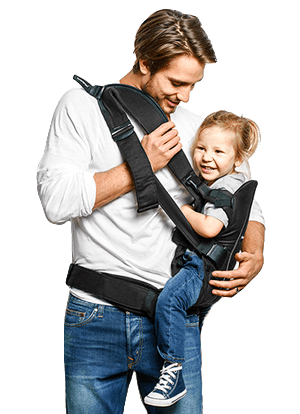 Back carrying with baby carrier
You can carry your child on your back starting at 12 months. It is easy and safe to place your baby on your back by yourself. With your child facing inwards and the shoulder strap in a closed loop around your body, simply swivel your child from your front to your back. It does not get easier than that.
BACK CARRYING WITH BABY CARRIER IN THREE SIMPLE STEPS
Place the child in the baby carrier, facing in, and loosen the shoulder straps. Move your right arm up under the shoulder strap.
Move your left arm down under the bottom part of the shoulder strap. You now have the shoulder strap like a closed loop around your body to ensure that your toddler is secure during the process.
Take hold of the child and carefully swivel him or her around onto your back under your raised right arm. Put both straps back on your shoulders and tighten the waist belt and the shoulder straps. Simple, safe and comfortable!