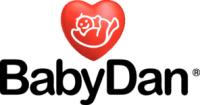 Baby Dan PREMIER extension/SLIMFIT - white 7 cm
Extends PREMIER gate up to 119,3 cm
Extends AUTO CLOSE up 93,3 cm
Secure larger spaces with extensions for Baby Dan safety gates
DETAILS:
Allows the installation of Baby Dan PREMIER and Baby Dan SLIMFIT safety gates in wider aisles.
Color: white.
Complies with the European standard EN 1930: 2011.
Made in Denmark.
2-year warranty.
NOTE: the price is for the complete 7cm extension.
ATTENTION: the extension fits Baby Dan PREMIER gates manufactured from 2013. If in doubt, please contact before purchasing.
Depending on the installed means of transport, Baby Dan PREMIER can be installed in the aisles up to the size of:
NOTE: if the width of the wider space is more than 92.5 cm, please add a photo, sticky wall pads.
Baby Dan SLIMFIT:
without 63-69.5 cm extensions
1 extension 69.5-76.5 cm (1 extension 7 cm)
2 extensions 76.5-83 cm (1 extensions 14 cm)
3 extensions 83-89.5 cm (1 extension 14 cm + 1 extension 7 cm)
NOTE: when installing 3 or more extensions, use the included adhesive wall washers.
The Danish company Baby Dan is a world leader in child safety. It was Baby Dan who invented protective gates and has been developing this product for nearly 60 years. Thanks to the highest quality of workmanship and unique solutions (many of them are protected by patents)
Baby Dan is today the largest producer of safety gates in the world.