Baby Dan - Y-spindle - For mounting gates on bannisters
Enables all of the pressure gates to be mounted on round surfaces (for example handrails)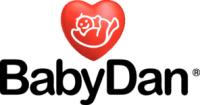 Easy return of goods within

30

days from purchase for any reason
Free delivery from

10,62 €
Product description
A set of two specialised mounting bracketss for rounded surfaces, just as handrails, railings etc.The soft, anti-slip material ensures not only the safety of mount, but no dammage dealt to the mounting surface as well.
Can be used ONLY with pressure-mounted gates. The mount can only be used on the hinge side of the gate. Baby Dan develops, produces and sells safety equipment for children in the age group 0-5 years. In addition, Baby Dan markets and distributes a large number of textile and furniture products for children in the same age group.
The company is ISO 14001 environmentally certified, a member of Global Safety Cooperation and has won numerous prizes and awards for its products both nationally and internationally.