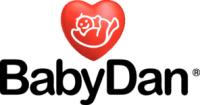 Baby Dan - Jump & Play by BabyDan – Hopscotch foam playmat
The play mats from BabyDan are non toxic and extra thick (1,5 cm).
They isolates and provide a soft surface.
Baby Dan - foam playing mat
A soft and safe surface for children to play and exercise. It will be perfect for a child's room, living room, balcony or terrace.
Thick foam mat that insulates shock, sound, cold and heat.
Perfect for hopscotch - to play with siblings, parents or friends.
A baby on a Baby Dan foam mat can exercise balance and coordination while crawling, walking or jumping on the floor.
The play mat can also be used as a puzzle as the pieces of the mat are slightly different and fit together in a certain way. You can also remove the numbers and let your child find and match the holes in the tiles to the correct number - another fun way to practice numbers 1-10.
DETAILED INFORMATION:
A mat for safe play and exercise for children
For a child's room, living room or balcony and terrace
Thick foam mat that insulates shock, sound, cold and heat
Safe for children 0+
Dimensions: length 215 cm, width 64, mat thickness 1.4 cm
Safety standard: EN 71-1, EN 71-2, EN 71-3
Free from Phthalates, Formaldehydes, Formamides and PVC
2-year warranty.
The Danish company Baby Dan is a world leader in child safety. It was Baby Dan who invented protective gates and has been developing this product for nearly 60 years. Thanks to the highest quality of workmanship and unique solutions (many of them are protected by patents)
Baby Dan is today the largest producer of safety gates in the world.