Domyślna nazwa
Small and lightweight
From birth to 12 months
Easy to get on and off unaided
Unique fabrics specifically developed for our baby carriers
Specially developed to give the proper support for the baby's head, neck, spine and hips
Baby Carrier Mini is an updated version of our classic Baby Carrier Original and is now available in 3 unique materials and 7 new colors – all specifically developed to suit a newborn baby. Choose between supersoft and flexible 3D jersey, airy and fast-drying 3D mesh and our luxurious cotton satin.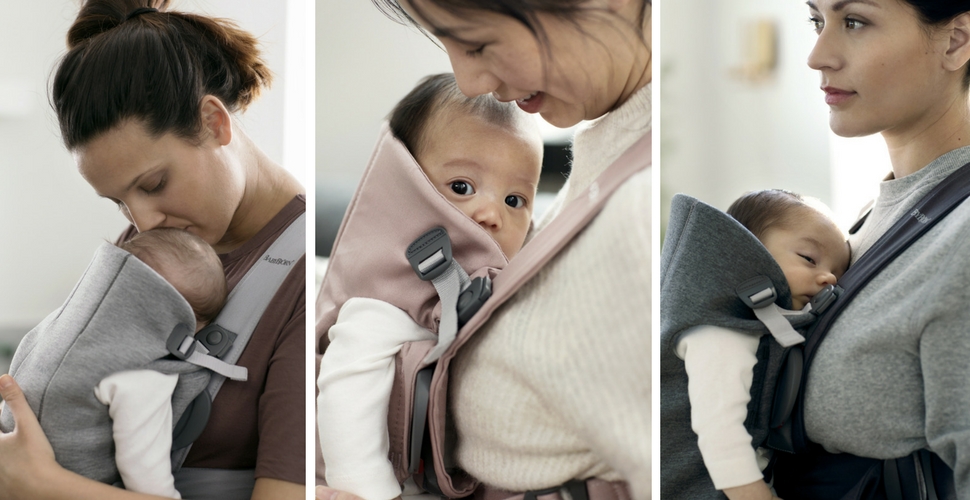 Small, easy-to-use and supersoft baby carrier for a newborn Baby Carrier Mini is a small and easy-to-use baby carrier that best suits newborn babies, with their great need for closeness. You can quickly get it on and off unaided, and it's easy for you to open up the entire front section to lift out your sleeping baby. Supersoft and flexible fabrics make the baby carrier snug and cozy for your newborn.
Small and lightweight

Easy to get on and off unaided

Supersoft and gently hugs your baby's body

Unique fabrics specifically developed for our baby carriers
What is the difference between Baby Carrier Original and Baby Carrier Mini?
The seat area of Baby Carrier Mini is 10 cm wider at the widest part than on Baby Carrier Original, giving better support to a newborn baby's legs and hips in the facing-in position.
New, unique materials. Baby Carrier Mini is available in three different fabric collections: Cotton, 3D Mesh and our brand-new 3D Jersey. Our mesh and jersey materials are incredibly soft, allow a good air flow, and stay cool and comfortable when you're babywearing. The baby carrier in cotton satin is cooler, lighter and has a more flexible seat area than earlier versions of our cotton baby carriers.
Our unique 3D Jersey and 3D Mesh fabrics are specifically developed for our baby carriers and designed to suit very young babies. Baby Carrier Mini is available in three fabrics:
3D Jersey - Our newest material and our very softest baby carrier. The soft-touch fabric is flexible and gently hugs your newborn's body when you babywear, so the baby carrier feels snug and cozy.
3D Mesh - A cool and airy mesh fabric that's incredibly soft on the inside against your newborn's skin. The mesh fabric lets air and moisture pass through it and dries quickly after washing.
Cotton - BCI-certified and flexible cotton satin that is super-soft and comfy for a newborn. A thinner middle layer gives a small baby carrier that gently hugs your baby's body.