BABYBJÖRN -Bliss Woven, Petal quilt Dark grey frame
Ergonomic baby bouncer with an extra long period of use
Can be turned into a rocking children's chair
Gives proper support to small children's neck and back
Natural baby bouncing, no batteries required
Can be used from newborn up to 2 years
Ergonomic baby bouncer with natural rocking
Bouncer Bliss is a cozy place for your baby to play or rest beside you while you take a shower or prepare a meal. The baby bouncer rocks gently when babies kick their legs or wave their arms. No batteries needed – the baby bouncer runs on pure fun! Playing in the baby bouncer also helps your baby develop motor skills and balance. Bouncer Bliss can be used for newborns and up to the age of two.
Features and benefits:
Award-winning baby bouncer in a new design
A gray base and frame give a soft look. The single-color mesh fabric creates a luxurious feeling and makes an attractive addition to your home.
Folds flat and convenient to carry
The baby bouncer is easy to fold up and takes up very little space when folded.
Three positions
Three different positions for play and rest.
Natural rocking stimulates your child's development
The baby bouncer is gently rocked by you or your baby's movements. No batteries required. The rocking helps your baby train and develop balance and motor skills.
Long period of use
The baby bouncer can be used for newborns (minimum weight 8 lbs/3.5 kg) and up to the age of two. When your child has learned to sit without help, you simply turn the fabric seat around and use the bouncer as a comfy children's chair.
Ergonomic design
The baby bouncer gives good support to your baby's back, neck and head. The fitted fabric seat distributes your baby's weight evenly, which is particularly important for newborn babies.
Happy baby, happy parents
Your baby can play and rest in the baby bouncer next to you while you get a chance to take a shower or enjoy a cup of coffee.
Child-friendly material
The baby bouncer is available in three soft materials: the new and extraordinary 3D Jersey, a comfy, quilted cotton and airy, quick-drying mesh It is free from harmful substances and approved according to Oeko-Tex Standard 100, Class 1 for baby products.
Easy to clean
The fabric seat is easy to remove. Machine wash warm (40˚C).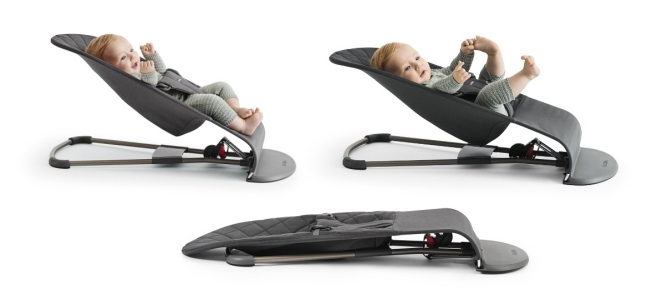 Product facts:
Age and weight
From birth to approx. two years (min. 8 lbs/3.5 kg, max. 29 lbs/13 kg).

Bouncer

 

(max 20 lbs/9 kg)
Always use the restraint system. Make sure that both buttons are locked. You can adjust between two positions. Stop using the product as a bouncer once your child can sit up without help.

Chair

 

(max 29 lbs/13 kg)
Use as chair when your child can walk and sit on his or her own. In order to convert the product into a chair, all you have to do is turn the fabric around.
Material : Our latest offering is a mixed composition consisting of 65% recycled polyester and 35% cotton. These new textiles ensure a gentle touch against the baby's skin, feature a lustrous finish, and uphold the same high-quality standards as our previous materials.
Tested and safe
The fabric is kind to your baby's skin and safe to taste. It is free from harmful substances and approved according to Oeko-Tex Standard 100, Class 1 for baby products. Bouncer Bliss complies with the US ASTM F2167 and the EN12790:2009 safety standard.
Washing instructions
Machine wash warm (40°C). Wash separately. Use an eco-friendly, mild and bleach-free detergent. Do not tumble dry. Mesh: Do not iron.