BABYBJÖRN - Baby Carrier ONE AIR, Grey
Airy and cool mesh that dries rapidly
Ergonomic and comfortable in soft material
Fully adjustable size & seat width
Babywearing for newborns up to 3 years, plus facing-out & back carrying
Ergonomic front and back baby carrier
Baby Carrier One is a soft and ergonomic babywearing choice that makes it easy for you to give your baby the important closeness that strengthens your parent-child bond from day one. The flexible fabric lets you both see and feel that you're carrying your newborn baby in a natural position, with their back in a C curve.
Flexible to suit all sizes
With Baby Carrier One, it's easy and safe for you to switch between several front and back babywearing options. The size, seat area and head support are fully adjustable, which means the baby carrier can be adapted as your newborn grows and their needs change, as well as to fit different babywearers.
Baby Carrier One has a sturdy waist belt and padded shoulder straps that relieve pressure on your back and shoulders and make it comfortable for you to carry your child as a newborn and up to the age of three. Your baby sits safely and comfortably – while you keep your hands free!
Features and benefits:
4 front and back carrying positions
Choose whether you want to carry your child facing in (two height positions), facing out or on your back.


Ergonomic leg position
The wide, fully adjustable seat area ensures a comfortable and ergonomically correct position for your child's hips.


Padded shoulder straps for superior carrying comfort
Luxuriously thick padding in the shoulder straps gives you superior carrying comfort.


Pressure-relieving waist belt
The wide, sturdy waist belt gives you excellent pressure relief and good carrying ergonomics.


Built-in infant insert
Baby Carrier One Air has two height positions. Use the upper height position for newborns (at least 8 lbs/3.5 kg) so your baby is carried in the correct position close to your face. Your baby should be close enough for you to kiss the top of their head.


Adjustable head support
The head support protects newborns and gives the correct support until they are able to hold their head up unaided. For older babies, you can also keep the head support unfolded when your baby is resting or sleeping in the baby carrier. You can easily fold it up or down and adjust the firmness of the support it provides.


Back carrying for your toddler
As your child grows heavier, back carrying in the baby carrier will be a more comfortable option for you. We recommend that you only start to carry your child on your back after the age of 12 months since you will not have the same degree of supervision.


Easy and safe back carrying
With your child sitting facing in, you can easily swivel the whole baby carrier from your front to your back. It's comfortable and you can do it by yourself. The design of the baby carrier ensures that your child sits safely and securely while being moved to your back.


Hip-friendly baby carrier
The International Hip Dysplasia Institute has tested Baby Carrier One Air and acknowledges it to be "hip-healthy". This means that the baby carrier provides the correct support to your child's hips and encourages good hip joint development, which is especially important in your child's first months.


Child-friendly materials
All our baby carriers are free from harmful substances and approved in accordance with Oeko-Tex Standard 100, Class I for baby products.
Product facts:
Age
For newborns and up to approx. 3 years. Min. 8 lbs/21 in (3.5kg/53cm). Max. 33 lbs/39 in (15kg/100cm).

Please note!
When you carry your baby facing out, they should be at least 5 months old and weigh no more than 26 lbs/12 kg.
The leg straps should be used to reduce the size of the leg openings for children between 8-10 lbs (3.5-4.5 kg).
Always check that the newborn or baby height zip is closed all the way to the end before use.


Materials
All our materials are kind to your child's skin and safe to taste. They are free from harmful substances and comply with the requirements of Oeko-Tex Standard 100, Class I for baby products.
Cotton mix: Outer fabric: 60% cotton, 40% polyester. Lining: 100‍% cotton. Padding: polyester and PU foam (straps)


Washing instructions
Machine wash warm/40°C. Wash separately. Use an eco-friendly, mild and bleach-free detergent. Do not tumble dry.


Tested and safe
Baby Carrier One Air complies with both European EN 13209-2:2015 and American ASTM F223 safety standards.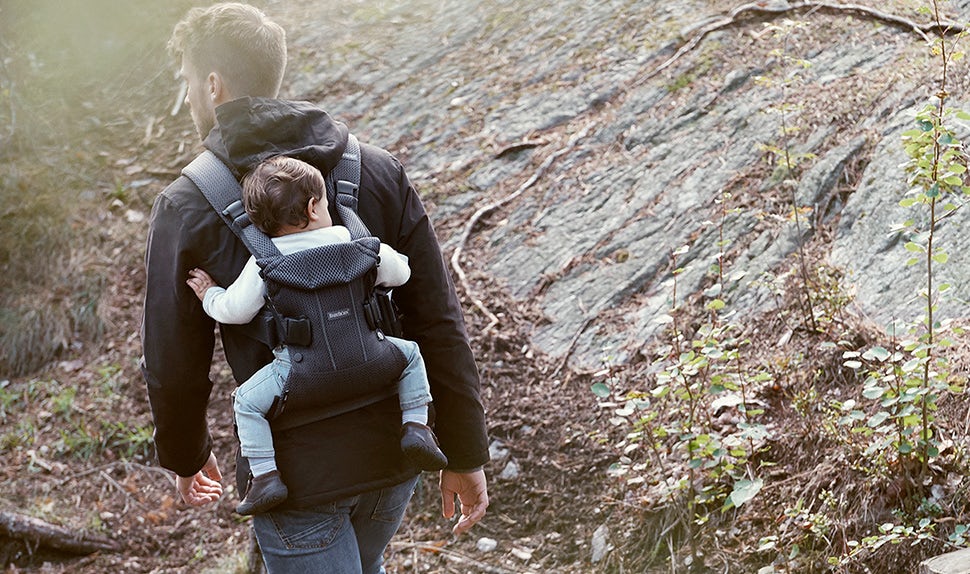 What makes the new Baby Carrier One Air different from previous versions?
The fabric is more flexible, and lets you both see and feel that you're carrying your newborn baby in a natural position, with their back in a C curve.


You can now select an even wider maximum seat area for your baby than you could in previous versions. The fully adjustable seat area means that you can adapt the seat width perfectly for your baby.


The head support is higher, so it gives a newborn more protection and neck support and provides better support for an older baby who's fallen asleep in the baby carrier. You can adjust the firmness of the support it provides.


New, super-soft mesh makes Baby Carrier One Air feel even more comfortable against your baby's delicate skin. The on-trend hole pattern is different to previous versions of Baby Carrier One Air.


Baby Carrier One Air is now made almost entirely of mesh. This sets us apart from many other manufacturers that only have mesh details. We've created a special mesh that's soft
Video


https://www.youtube.com/watch?v=ADMUilKWGJY


https://www.youtube.com/watch?v=EFb9OO98qwo