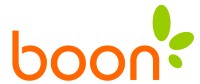 Boon - MODWARE Toddler Utensils
Benders can be positioned to accommodate any grip in any direction. And that means food arrives at its intended destination.
MODWARE is great for toddlers who are not quite ready to rock adult tableware. The soft, comfy grip is part of an overall ergonomic design that makes eating simple. There are no sharp edges to ruin a meal. Bonus: Great for pretend sword fights!
Features & Details
Ergonomic design with no sharp edges

Soft, comfort-grip handles

Three color fork and spoon set

Recommended age: 9m+

Made without BPA or PVC

Dimensions: 1.8" x 5.6" x .6"
Wash thoroughly before initial use and after each use. Wash each piece separately. Dishwasher-safe or hand wash in warm, soapy water. DO NOT microwave. DO NOT boil or sterilize.
1 year guarantee.