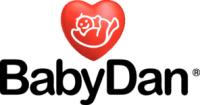 Baby Dan - Staircase Adapter
Special adapter enabling the installation of Baby Dan safety gates to the stair railing.
The safety approved solution for fitting a safety gate on a baluster.
The BabyDan Staircase Adapter provides a flat surface so you can install a safety gate. It allows you to install a wall mounted safety gate without ruining the bannister woodwork or metal and it provides a flat surface to install even pressure fit child safety gates on a round baluster. It fits most safety gates.
This adapter meets the latest European Safety Standard EN1930:2011 when mounted with a BabyDan safety gate. Please find a list of gates in your manual.
• No drilling in the baluster
• Suited for most staircases
• For round and square balusters (Ø 10-14 cm / 6- 11 cm)
• Easy to fit (and step-by-step Onbox instruction video available)
• 100% PVC free
• For top and bottom of stairs
• Made in Denmark
Mount your safety gate between the wall and a round or a square baluster. Mountable in two ways depending on safety gate features. Use from wall to baluster.