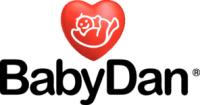 Baby Dan - Premier Safety Gate + 2 extension 7 cm + panel 64,5 cm, white
4-step safety mechanism
Pressure mounted
Doubled indicators for safe assembly
Made in Denmark
New improved handle inside
In a set
Meet Baby Dan PREMIER safety gate
Baby Dan PREMIER is a classic, comfortable safety gate. A handy, improved handle and the possibility of opening in both directions makes it very easy to use.
DETAILED INFORMATION:
2 extensions included and 1 panel of 64.5 cm. Fits aisle 139-158 cm wide.
A real expansion gate - no drilling or mounting of wall shims required.
Will not leave any traces after disassembling it.
3-stage child-resistant mechanism!
Equipped with two indicators of correct assembly (in the handle and at the bottom of the gate).
Can be opened and closed with one hand.
Extremely strong and stable.
New improved handle for more convenient opening.
Wide door (57 cm) opens both ways.
Height: 73 cm.
Suitable for children under 24 months of age.
Made of steel.
Painted with non-toxic agents.
Complies with the European safety standard EN 1930: 2011.
Made in Denmark.
2-year warranty.
Baby Dan PREMIER gates can be installed in passages up to 183 cm wide.
Select the kit that is right for you:
NOTE: if the width of the gate with extensions exceeds 92.5 cm, the included adhesive wall pads must be used.
INTERACTIVE ASSEMBLY INSTRUCTIONS:
Baby Dan gates are equipped with two indicators for correct assembly. The indicators give parents complete confidence that the gate has been mounted correctly.
Baby Dan gates can also be mounted to the curved railing of the stairs. It is possible thanks to special handles ( can be bought from our store here ).
---