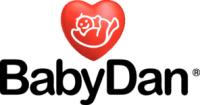 Baby Dan - DANCHAIR feeding chair - whitewash
Fully flexible! Due to adjustable height of the seat and feet rest it can be used by children from 6 months even up to 15 years of age!
DANCHAIR Feeding Chair - ensure a complete family life around the table!
Danchair can be easily adjusted regarding the age of the child. The seating and the feet rest can be individually adjusted, thus the chair suits all children from 6 months even up to 15 years of age. The DanChair enables the child to keep proper and healthy position due to the ability of flexible adjustment of height for the seating and feet rest. Propper adjustment of the seating and feet rest height ensures the tabletop to always be on an adequate height for the child. The seat also has well-profiled, specially designed back rest.
Detailed information:
Safety fence included (new addition - can be easilly clipped in with just one move).
Safety belts included for additional assurance of the child.
Unique design enables the child to be sitted easily. The safety fence is to be clipped after seating the child.
Does not require much space, can be put below the tabletop just as an usual chair.
Designed to provide propper position of the child while feeding.
Flexible adjustment options regarding the childs age.
Additional soft cushionings available for extended comfort.
Comfortable profiled back rest.
Exceptionally firm.
Made with rubber tree wood for great durability.
Modern scandinavian design.
Height: 81 cm, width 47 cm, depth 57 cm.
Fulfills safety regulations: EN 14988-1:2006 + A1:2012 oraz DVN 2504:2
2 years warranty.