THULE Urban Glide 2, Dark Shadow
Thule Urban Glide is an all-round sports stroller with a sleek and lightweight design making it perfect for urban mobility or jogging on your favorite path.
A high-performance jogging stroller with a lightweight, areodynamic design that lets you and your child get the most out of your run - on any terrain.
DETAILED INFORMATION:
Fixed 16'' front wheel and 18'' rear wheels for superior jogging performance

One-handed, compact fold for easy storage and transportation

Integrated twist hand brake provides speed control on hilly terrain

Muliti-position canopy with site-ventilation windows ensure your child is comfortable

Reclining seat - convenient on-handed recline

Suspension makes the ride smooth for both parent and child

Ergonomic, adjustable handlebar for maximum parent comfort

Secure and comfortable seat with padded 5-point harness and integrated ventilation

Peekaboo window with magnetic closure lets you check on your sleeping child without disturbing him or her

Plenty to room to bring everything you need thanks to large cargo basket, rear mesh pocket, and two mesh compartments for snacks or toys

Improved visibility thanks to reflective rims on all wheels and reflective edge on canopy

Accessories not included: infant car seat adapter, rain cover, mesh cover, cup holder and tray for snacks or toys, cup holder.  
Aerodynamic design

YES

 

Extended handlebar

YES

 

Front Wheel Size 

28 cm

Front wheel tracking adjustment

YES

Hand brake

YES

One Hand Fold

YES

 

Oversized rear wheels

YES

Range of accessories

YES

 

Rear Suspension

YES

Rear Wheel Size 

38,5 cm

Reclining Seat

YES

 

Storage compartment

YES

 

Swivel front wheel

YES

 

View in roof port

YES

 

Pass Through

69 cm

Meets safety standards

YES

 

5-point child safety harness

YES

 

Lightweight carrier

YES

 

Adjustable reclining seat

YES

 

Multi-position canopy

YES

 

Parking brake

NO

 

Color

Black

Shoulder width

34 cm

 

Weight capacity

34 kg

 

Enlarged child cockpit

NO

 

 
 

Weight*

10,8 kg

Note

* Weight does not include front attachment or first year of life bundle

Sitting height

69 cm

Warranty on frame

10 years

Warranty on fabric

2 years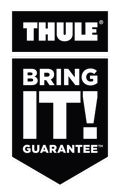 Bring your gear with confidence
Thule is dedicated to providing exceptional products that are quality tested and guaranteed against defects in materials and workmanship.