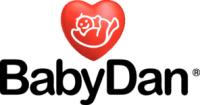 Baby Dan - Perfect Close Safety Gate + 2 extensions
Variable width and mounting possibilities
Can be mounted in non-aligned surfaces
2-step safety mechanism
In a set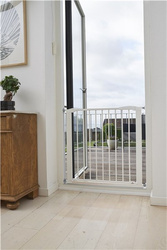 Baby Dan Perfect Close safety gate
The BabyDan Perfect Close safety gate features some great musthaves for families with a baby or toddler.
This extra wide safety gate covers openings between 77.3 and 83.5 cm and is suitable for both doorways and stairs. By adding extra BabyDan extensions you can extend the gate to cover up to 110 cm.
The Quick Close feature allows you to slam the gate to close when in a hurry. Once closed the BabyDan Perfect Close locks so the child cannot open it. BabyDan has even added a Silent Close feature to the double locking mechanism, meaning that the gate does not make the well-known and dreaded loud metal click sound when you close it behind you, after finally getting your little one to sleep.
When buying this pressure fitted safety gate you don't have to drill holes into your wall or doorframe. You can just use the adhesive tape provided for attaching the wall cups. When you open the box, everything you need is right there. No extra tools required.
Top features:
2 extensions included (suitable for 77,3 - 97,1 cm)
Super wide safety gate: 83.5 cm / 32.8"
Quick Close feature: slam the gate close when you're in a hurry
Silent Close feature: when you don't want to wake up your baby
Extra safe: also for top of stairs
Baby Dan Perfect Close gates are sutiable for spaces up to 110 cm width.
It is possible by using dedicated extensions:
INTERACTIVE ASSEMBLY INSTRUCTIONS:
This stylish, top quality Danish Designed gate is also Made in Denmark. You can open the gate both ways using one hand. Like all BabyDan safety gates it conforms with the latest European Safety standard EN 1930:2011.